How Long Can a Toyota Camry Last?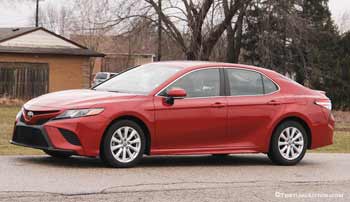 2020 Toyota Camry.
In general, Toyota Camrys have a reputation for being reliable and well-built vehicles. They are known for their soft smooth ride and dependable powertrains. With regular maintenance and timely repairs a Toyota Camry can last for 270,000-300,000 miles. However, some model years are more reliable than others.
What years of the Toyota Camry are the most reliable?
The 2010-2020 model years are more reliable than others. The 2004-2006 and 2007-2011 Camry generations were not bad, however there were some problems with the 2.4-liter 4-cylinder engine (model 2AZ-FE). There are also many complaints about brakes and ABS system in the 2007 Camry. The 2007 model year should be avoided. The 2010-plus model years are equipped with a more dependable 2.5-liter 4-cylinder engine (2AR-FE). The V6 models are generally OK. Non-hybrid trim levels are preferable, as they will be cheaper to maintain in the long run.
What are the factors that contribute to the longevity of the Toyota Camry?
Regular Maintenance and Care:
Two major issues that can cause engine problems is a lack of regular oil changes and overheating. Therefore, keeping up with oil changes and maintaining the engine coolant level topped up are the two factors that can prevent potential problems and extend the life of your engine.
At higher mileage any engine consumes oil between oil changes. Considering this, it helps to check the oil level periodically and top up if needed. Read more:
How to check the oil level in your engine and read the dipstick
.
From experience, we also know that a VVT gear may produce a rattling noise when the engine is first started in the morning and may need to be replaced at higher mileage. If the
timing chain
is worn out, it may need to be replaced at the same time with related parts.
It's also a good idea to change transmission fluid every 60,000 miles or so to keep the transmission clean inside.
Spark plugs
need to be replaced every 120,000 miles or earlier.
Having the wheel alignment done every 2-3 years will increase the lifespan of your tires and suspension components. Read more about
wheel alignment
.
If you live in the area with high salt usage in winter, rustproofing will help preserve the body and chassis components. Read also:
Pros and cons of rustproofing your vehicle
. Waxing the vehicle every 6 months using a high-quality product will preserve the paint and will keep it shiny for longer.
Use high-quality fluids and parts
When performing maintenance or repairs on your Camry, use high-quality fluids and parts, preferable genuine Toyota fluids and Toyota original or reputable aftermarket parts.
If you are considering buying a used Toyota Camry, it's a good idea to check the vehicle's service/maintenance records. You can expect the vehicle last longer if it's accident-free and has been properly maintained by previous owners. We also recommend to have it thoroughly inspected by a trusted mechanic.
In conclusion, a Toyota Camry has the potential to last for over 300,000 miles with proper care and maintenance.