Buying a used BMW: models, ratings, common problems
What to consider when buying a used BMW
BMW is an excellent driving machine, thanks to its classic rear-wheel drive platform and strong engines. A new BMW costs a lot, so many buyers opt for used models; they are not very expensive and widely available. Here are few things you should consider before buying a used BMW: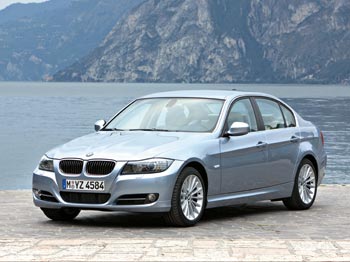 2009 BMW 3-Series.

Depreciation:
 One issue with BMWs is that they depreciate a lot. For example,  a three-year old 3-Series BMW is priced around $30,000, while the 6-year old 3-Series averages around $17,000. This means that a three-year old 3-Series will cost you nearly $4,000 per year in lost value alone. Considering this, opting for a 5-6 year old BMW  could be a better option from a financial point of view.
Ownership costs:
Repair, maintenance and insurance costs for BMW are much higher than for an average car. With more expensive parts, premium gasoline, synthetic oil, high-end tires and higher repair labor costs, expect to pay a couple thousand dollars more per year for a BMW than for a Honda or Toyota.
Reliability:
 BMW is well-engineered and solidly built, but it won't be as reliable as Japanese brands. Generally, BMW cars are rated 'average' or 'below average' for reliability. It's pretty much given that a used BMW will need some repairs now and then.  One common issue causing problems with BMW and other European autos is the use of plastic instead of more durable materials. Another issue is a huge amount of complex electronics.  Long service intervals designed to lure new car buyers don't help either. Turbocharged models are typically more troublesome.
Service and Repairs:
 If you are planning to buy a used BMW, It might be a good idea to do some research and find a local repair shop with good reputation that specializes in BMW.  These German machines have a lot of specifics and not every garage may be able to handle the repairs. Servicing at a dealership tends to be expensive, so a local trusted BMW-specialized shop is a big plus. You might even consider using their services to pre-inspect the used car that you want to buy.
Let's see what are the options. In this post, we only consider BMW models available in the US and Canada. Let's start with the Baby Bimmer:
2008-2011 BMW 1-series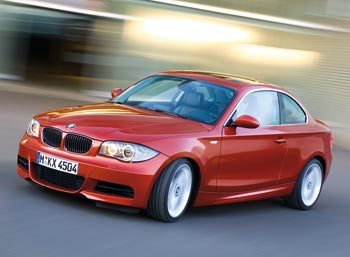 2007 BMW 1-Series.
Introduced in North America for 2008, the 2008-2011 BMW 1-series was sold as a two-door coupe (E82) or convertible (E88); under 128i and 135i model names. The 1-Series BMW is a rear-wheel drive four-seater, although the rear seat space is very limited. The 128i comes with a 230-hp 3.0L inline-6 engine, while the 135i has a 300-hp twin-turbo 3.0L inline-6. The 1-Series BMW weighs just over 3,000 lbs., so you can imagine how fast this 300-hp baby can be. Motortrend reported the 2008 BMW 135i reaching 0 to 60 mph in just 4.7 seconds. The 1-series BMW is available with an automatic or manual transmission, but manual models are rare. Maybe the fuel economy is not very important when you drive this little rocket, but we will mention it anyway: The 2009 BMW 128i coupe automatic is rated at 18/28 mpg on premium gasoline; the manual 128i model has exactly the same rating. The 135i with an automatic transmission is rated at 17/25 mpg.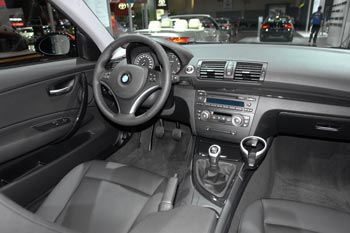 2009 BMW 128i interior.
Consumer Reports rates the 2008 1-Series BMW 'average' for reliability. Edmunds.com estimates the cost of maintenance and repairs for the 2008 BMW 128i coupe at more than $15,000 over a five-year period. For comparison, the maintenance and repair costs for the 2008 Honda Civic are estimated at $5,700. This means you will spend roughly $2,000 more per year to keep your Baby Bimmer on the road, compared to Honda Civic. The insurance also won't be cheap, so overall, the 1-Series BMW is a pretty expensive toy. This thread has some interesting info on common issues. The 128i is probably a more sensible choice, as a turbocharged engine is more likely to have problems and will be more expensive in a long term.
2006-2011 BMW 3-series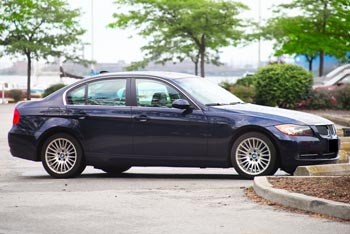 2009 BMW 3-Series.
Redesigned for 2006, the best-selling 3 Series was once again available as a sedan (E90), wagon (E91), coupe (E92) and a convertible (E93); in a rear-wheel drive or all-wheel drive configuration. The 325i, 330i and 328i come with the naturally-aspirated 3.0L inline-6 engine. The BMW 335i offered a 3.0L twin-turbo engine that is more troublesome, but has more power (300 hp). The 265-hp 3.0L turbodiesel was added for 2009; however, the diesel models are rare. The diesel-powered 2009 BMW 335d  is rated at 23/36 mpg city/highway by the EPA. For comparison, the gasoline-powered 3.0-liter 328i automatic is rated at 18/28 mpg on premium gas. Checking the US used car market reveals that the gasoline-powered rear-wheel drive 4-door sedan with an automatic transmission is the most commonly available configuration. Inside the 3 Series is classy and luxurious, with comfortable seats and high-quality materials; however, the space is pretty tight. The trunk is not very large too. In the NHTSA crash tests, this 3 Series generation received 4 stars in frontal crash tests and 5 stars in side crash tests through 2006-2010.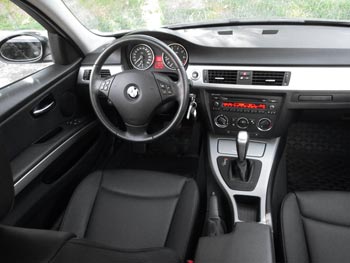 2007 BMW 323 interior.
The reliability ratings from Consumer Reports vary for different models. The 2009-2011 328i is rated better than average, while the 2006-2007 models were more troublesome. The twin-turbo 335i got 'below average' to 'average' ratings. Common 3-series problems: electrical, minor engine and cooling system problems, fuel injection system problems. All in all, the 3 Series will not disappoint you in the way it drives, but be prepared to spend extra on repairs and maintenance. Consider Infiniti G35/G37 if you want a more reliable sporty sedan. This 
forum
 has many DIY guides. 
2004-2010 BMW 5-series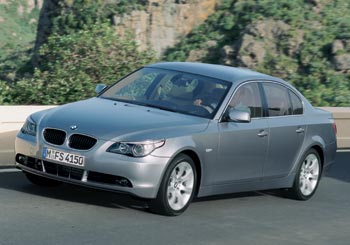 2006 BMW 5-Series.
The 5 Series is a perfect blend of luxury and performance. The 5 Series sedan (E60) is the second best selling BMW after the 3 Series in the US. Redesigned for 2004, the 5 Series was available with an inline-6 (525i, 530i, 535) or less common V8 (545i, 550i) engine. The wagon (E61) body style as well as all-wheel drive option were added for 2006. What is extremely rare among luxury cars, the 5 Series BMW was offered with a manual transmission. One notable drawback is the poor results in the government frontal crash tests for the driver: only three stars out of five through 2008-2010 - the only years tested. In the side-impact crash tests the 5 Series got five stars. In terms of fuel economy, the 2010 BMW 535i Grand Turismo is rated at 19/28 mpg, which puts it second in the luxury car class, right after Lexus GS 450 hybrid.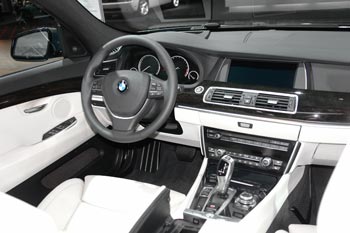 2010 BMW 5-Series interior.
As you might expect, owning the 5 Series won't be cheap; according to Edmunds.com, the approximate cost to own the new 2007 BMW 530i sedan over a 5-year period is just above $59,000. In comparison, the cost to own a 2007 Toyota Camry LE auto is estimated at roughly $40,000 over the same period. The 5-series is rated 'average' and 'below average' through 2004-2010 by Consumer Reports, with the 2009 model being the worst. Trouble spots include electrical systems, engine, power equipment, and the audio system. Common problems include leaks, engine and electrical issues. The 5 Series competitors include the softer-riding Mercedes E-class and more reliable Lexus LS and Infiniti M-class.
2002-2008 BMW 7-series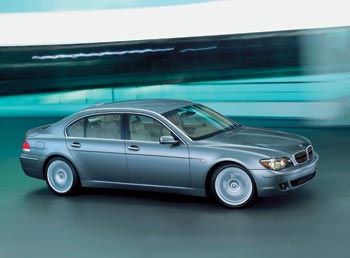 2006 BMW 7-Series.
The flagman 7 Series is the largest BMW luxury sedan. Interestingly, the 7 Series depreciates a lot over time. As we checked in 2012, the prices varied from under $8,000 for the 2002 model to over $45,000 for the 2008 model, even though it's pretty much the same car.  This means that if you want to buy a used BMW 7 Series, opt for a 7-9 years old instead of 3-year old, as it will be a lot cheaper.  Reliability-wise the 7 Series is rated below average by Consumer Reports. The NHTSA haven't crash-tested the 7 Series, but given the size it should be pretty safe.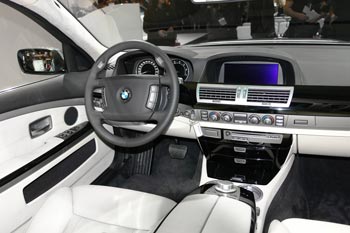 2007 BMW 7-Series interior.
  With a V8 or V12 engine, the 7 Series is obviously not a gas sipper; the 2008 8-cylinder 750i is rated at 15/23 mpg, while the 2008 V12 760LI gets 13/20 mpg with the estimated yearly fuel cost at $4,100. The cost of ownership for the 7 Series tops other Bimmers by a large margin. For instance, a set of 4 Michelin tires for the 2008 BMW 760i is priced at around $1,586. You can buy the 7 Series for under $10,000, but we wouldn't be surprised if you pay more than that for gas, insurance, repair and maintenance within one year of ownership. Still, it's a gorgeous-looking solid car.
2004-2010 BMW X3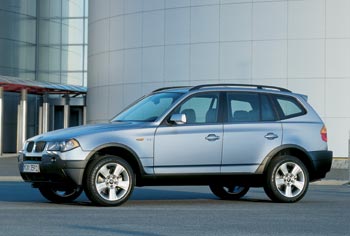 2005 BMW X3.
Introduced to North America for the 2004 model year, the X3 is a small SUV based on the 3 Series with crisp handling and firm ride. The X3 is probably the most sporty SUV on the market; it is also one of the rare SUVs available with a manual transmission. Driving the X3 feels more like driving a sports car with the advantage of good visibility, high driving position and good cargo capacity. With the seating room for 5, the X3 interior is nicely appointed, with good materials and comfortable seats. There is plenty of headroom in the front and back. The front legroom is very good; the rear legroom is tight. With the rear seats folded, the X3 offers class-leading 71 cu. ft.  of cargo space. Even with high ground clearance, the X3 is not an off-roader, but rather a city SUV with an all-wheel drive. The X3 is powered by either 184-hp 2.5L or 225-hp 3.0L inline-6.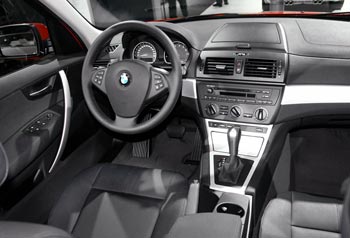 2008 BMW X3 interior.
The 0-60 times are  9.3 seconds for the 2.5L automatic and 7.9 seconds for the 3.0L automatic. The X3 towing capacity is rated at 3500 lb. The EPA rates the 2004 2.5L BMW X3 with an automatic transmission at 15/22 mpg (15.7/10.7 L/100km). The 2004 3.0L X3 automatic is rated at 14/21 mpg (16.8/11.2 L/100km), while the manual 3.0L X3 gets 15/25 mpg (15.7/10.2 L/100km). If you decided to buy used BMW X3, be prepared to visit your mechanic once in a while; Consumer Reports rates the 2004-2007 X3 reliability as 'average', while the 2008-2010 X3 is rated 'above average'. Maintaining the X3 is not cheap and it requires premium gasoline and synthetic oil. Edmunds.com estimates the 5-year ownership costs for 2007 BMW X3 at  just over $61,000. In comparison, the 2007 Toyota Highlander would cost you around $45,000 over the same 5-year span. Check this 
forum
 to read about common problems. If you need a more reliable and comfortable to drive SUV of the same type, consider Lexus RX.
2007-2012 BMW X5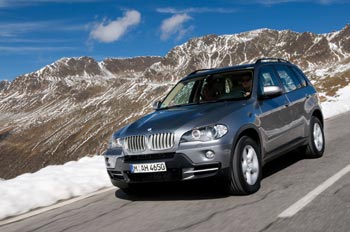 2009 BMW X5.
No other SUV on the market combines luxury and sportiness as well as BMW X5, but it's also one of the most expensive to keep. The 2007-2012 BMW X5 (E70) was offered with an inline-6 (3.0si, xDrive30i) or V8 (4.8i, xDrive48i).The Diesel-powered xDrive35d joined the lineup for 2009. Only an automatic transmission was available.  The all-wheel drive was standard. The small third-row seats were available as an option.  In the government frontal crash tests, the 2008-2010 X5 was rated with five stars for the driver and four stars for the front passenger. Side-impact protection was rated with five stars.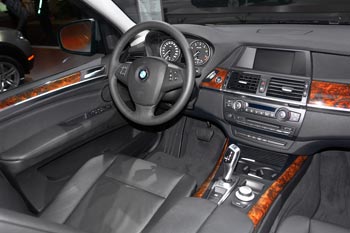 2007 BMW X5 interior.
Edmunds.com estimates the 2007 X5 maintenance and repair costs at around $3,300 per year. For comparison, the maintenance and repair costs for the 2007 Toyota Highlander are estimated at $1,600 per year, so over five years, you would spend $9,000 more to keep your X5 running compared to the Highlander. The X5 Diesel version is cheaper on fuel, but more expensive to maintain, so overall savings are minimal.  Consumer Reports rates the X5 well below average for reliability, with electrical and engine cooling system getting the most of the complaints. J.D. Power and Associates gave the 2012 BMW X5 only two stars out of five in their 2012 Vehicle Dependability Study. Common problems include usual minor engine issues, cooling system and electrical problems.
Common problems:
The engine cooling system problems are fairly common including coolant leaks and failed water pumps. The cooling system issues must be addressed as soon as possible, as the overheating can cause serious engine damage. The crankcase ventilation system (CCV) is another source of many problems. This
thread
explains the CCV issues in details. Vacuum leaks caused by cracked hoses, intake boots and CCV issues are also common. Oil leaks often cause the 'burnt oil' smell under the hood. Fuel pumps and fuel injectors fail quite often.  The DISA valve replacement is another common repair. Of course, many of these issues will also trigger your Check Engine light. This
forum
, for example, describes many Check Engine issues in the E46. Issues with the electronics are not uncommon too, especially given that there are so many electronic devices and control modules. On the plus side, there are a lot of BMW enthusiasts who don't mind sharing the information, so you won't have troubles finding the DIY guides; see the "Resources" section below.
What to look for when buying a used BMW:
When checking a used BMW, test all the electronics thoroughly, including the remote, windows, power seats, climate controls, air conditioner, audio system, Bluetooth, etc. Check for water damage and corrosion under the carpet, including in the trunk; water is the enemy of electronics. In newer cars, make sure the key seats well in the key holder.  There are complaints about hairline cracks in the alloy rims causing air leaks; the cracks are very small and difficult to detect, so be suspicious if the tires are low on air. Watch out for coolant or oil leaks or burnt oil smell under the hood. In the 54n engine (335i, 535i), a long crank and rough idle when started cold usually indicate a failing high pressure fuel pump. During a test drive, watch for rough shifts from the transmission and clunks from the drive train. When it comes to buying used BMW, the mechanical condition is much more important than the age or mileage. Avoid cars that were previously damaged in an accident. Run the Carfax or other used car history report. Before signing the deal, have the car thoroughly inspected by a BMW-specialized mechanic.
Tech tips:
If you want to keep your BMW longer, it will need more frequent regular maintenance than specified in the factory maintenance schedule. Get familiar with common problems and ways to prevent them or at least learn to recognize telltale signs of problems earlier; there are many discussion about common issues on various BMW forums. Check links at the bottom of the page. Any problem will cost less to repair if caught early.
If your car starts overheating, or if you notice coolant leaks on your parking spot, have the car checked out as soon as you can; overheating can cause serious problems with your engine. For the same reason, periodically check the coolant level and keep it topped up.
For an all-wheel drive model, it's important to keep the tires properly inflated. For some tire sizes, the pressure specs are different for the front and rear tires; check the tire placard located on the driver's door jamb for the correct pressure. Improper tire pressure can cause variety of issues in all-wheel drive models, including jolts when accelerating or coming to a stop. Keep your BMW dry; spilled coffee or water leaking under the carpet can cause a lot of expensive problems with the electronics.